The most wonderful time of the year is just around the corner, and it's time to think decorating! Whether your tree or menorah is already up or you're going all out for Thanksgiving, we have some ideas to highlight the architectural features of your home, bring a little personality, and not break the bank.

Highlight windows with lighting and wreaths.
There's something about a lit window that just feels so cozy and Christmassy. Drape fairy lights vertically or surround the entire frame with string lights. Have fun with shapes, sizes, and lengths. The warm glow in your living space is a bonus. If you're without a plug or prefer greenery, wreaths are a festive and clutter-free way to highlight those gorgeous windowpanes. When in doubt, do both!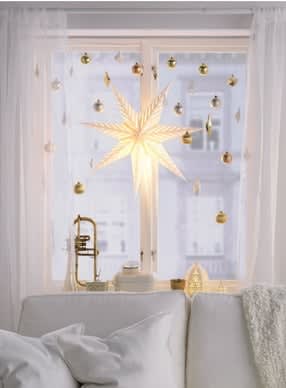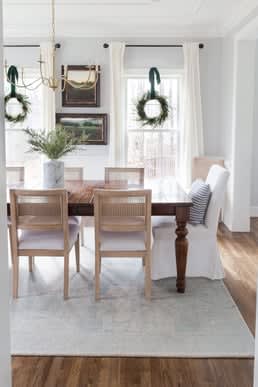 Add garland to your banister, mantle, or beams.
Garland is a phenomenal way to highlight the gorgeous features of your home. Spice up your wrought iron railing with draped greenery and bows. Lay natural pine on your mantle for an organic and fragrant pop of color. Showcase your beams or doorways by wrapping them in prelit, handmade, or whatever type of garland speaks to you.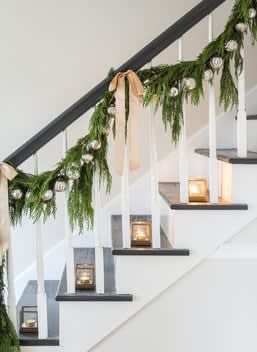 Pick a color or theme and stick to it.
Christmas decorating adds a lot of literal stuff to your house; the best way to make it not feel overwhelming is to color-coordinate. Your eye will appreciate the cohesion and won't detract from the natural beauty of your home. Blue and white are classically gorgeous for Hannukah. Red, white, and green make for a traditional Christmas, while a silver and gold motif feels more modern. This doesn't mean you have to go neutral! Your color scheme can definitely be all the colors. We just don't recommend having an entirely red, white, and green tree with one rogue purple bauble. See below for the perfect coastal holiday home decor palette!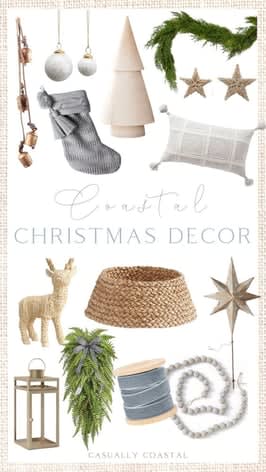 And because everyone loves to save a buck, here are a few miscellaneous budget-friendly ideas:

Put new pillowcases on existing pillows, then remove them after the season - burnt orange for Thanksgiving, buffalo plaid for Christmas, navy for Hannukah. Then you only have to buy and store pillowcases, and your couch will always be in season. You can really do this all year round, but it especially works for the end-of-year holidays.
Store your decorations well. Stocking up on heavy-duty plastic bins will pay back dividends. There's nothing worse than grabbing the decorations and seeing a mouse got into grandma's homemade stockings. Money and nostalgia both down the drain.
Buy now! With supply chains still lagging, now is the perfect time to start stocking up on choice new decor. Even better - buy for next year after this year's festivities end. All those half-price discounts make a huge difference. And now that you invested in heavy-duty storage bins, they'll be just like new next November!